AC Cleaning Services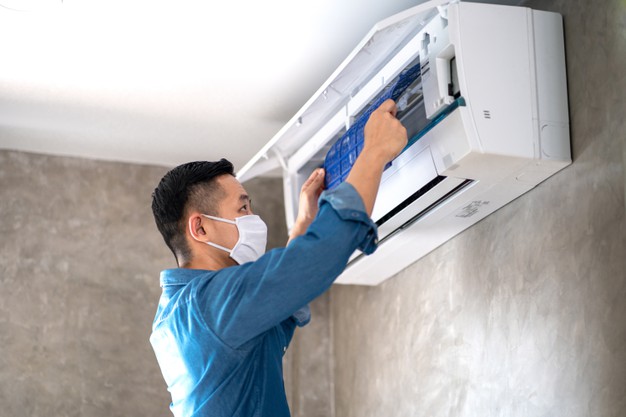 As the hot weather demands the non-stop functioning of all the air conditioner units around us, AC cleaning in Dubai is a prominent service in demand. Eventually, various components of the air conditioners tend to get clogged by dirt and debris accumulation that make you look for AC cleaning services. Edge DXB is a professional AC cleaning company in Dubai, providing a wide range of AC maintenance services, such as cleaning AC ducts, filters, cooling coils, chillers, and condensers. Do you see water dripping from the AC unit or leakage on the ceiling? This may be a severe alarm to have proper air conditioning cleaning for your home in Dubai.
The prolonged functioning of AC units with clogged internal parts may also lead to bacteria and mold infestation, contaminating the airflow. Contaminated airflow may cause serious respiratory health hazards or allergies. Through our various AC cleaning services in Dubai, we provide complete sanitization of AC ducts, coils, and other parts to ensure safe and comfortable airflow. Edge DXB is a leading AC cleaning company with a team of trained technicians available 24 hours. For more information or to avail of our AC cleaning services, feel free to get in touch with our team of experts.
Do I Need to Clean My Air Conditioner?
As the AC unit's integral components are not visible, the need for an AC cleaning company in Dubai may only arise after a severe breakdown. However, frequent checking and proper AC cleaning can help you prevent major damage to the AC unit. There are few simple signs which may indicate internal clogging or debris accumulation inside the AC unit, which we have outlined below:
CLOGGED VENTS
You can check the AC return air inlets for any dirt or debris build-up, as this may block the air from reaching the motors.
REDUCED AIRFLOW
A clogged AC filter or damaged motor may reduce the airflow from the AC unit that can be rectified by a reliable AC cleaning company in Dubai.
NOISINESS
Unusual noises from the AC vents indicate blockage and a need for deep AC cleaning services to avoid further damage.
A DUST CLOUD
If a dust cloud is released on turning on the AC unit, it calls for immediate AC cleaning in Dubai.
INSUFFICIENT COOLING
Inadequate cooling in certain areas or the overall space may indicate clogging in the cooling coils or vents. Professional AC cleaning services can easily rectify this issue.
BREATHING ISSUES
Infestation of AC ducts or other parts by bacteria due to prolonged lack of AC cleaning may lead to sickness or breathing issues.
Our Service Inclusions
AC COIL CLEANING
The AC coil clogging is a prevalent issue that is resulted from deposits of fine dirt and debris. Our AC cleaning services in Dubai mainly involve complete coil cleaning to improve the unit's performance for comfortable air.
AC DUCT CLEANING
Accumulation of atmospheric dust and dirt in the AC duct might lead to the breeding of allergens and other contaminants. As a leading AC cleaning company in Dubai, we provide a thorough cleaning of AC ducts to improve the airflow.
AC SANITIZATION
An efficient AC cleaning process includes intense sanitization of the internal components to make them durable. We offer reliable AC cleaning in Dubai using certified products such as EnviroCon, F.P. sanitizers, and Microban.
CONDENSER CLEANING
In the AC condenser, the resulting moisture due to refrigerant condensation may attract unwanted dirt and debris, further causing the unit to clog. Our professional cleaning services dive into deep cleaning of the condensers to improve the cooling effect.
DRAIN CLEANING
The AC drain line should be clear to allow easy disposal of the moisture released, which otherwise may cause leakage of AC shutdown. Through deep cleaning and unclogging of the drain, Edge DXB is a major AC cleaning company in Dubai.
AC FILTER CLEANING
Dirty air filters may cause more power absorption, thereby providing sufficient cooling. We are a reliable AC cleaning company in Dubai, offering efficient removal of dirt or debris on the air conditioner's filters.
BENEFITS OF REGULAR AC CLEANING
IMPROVED AIR QUALITY
Apart from cooling the atmosphere, the air conditioner dehumidifies the air. A professional AC cleaning company will ensure that your AC releases purified air.
ALLERGY & ASTHMA RELIEF
A reliable AC cleaning company can help you prevent bacteria infestation in the air conditioner components and protect you from allergies and respiratory problems.
REDUCED ENERGY CONSUMPTION
Cleaning integral parts of an AC unit not only enables it to function smoothly but also reduces the power consumption, thereby significantly lowering your electricity bills.
ELIMINATE BAD ODORS
The foul smell released due to the formation of molds or bacteria inside the AC unit can be avoided through the daily cleaning of dirt and debris.
WHY CHOOSE OUR AC CLEANING COMPANY
We are a popular AC cleaning company providing a one-stop solution to all your air conditioner maintenance issues. Using high-quality products and spare parts sourced from trusted providers in the UAE, we ensure long-lasting results through all our AC cleaning services. We follow a strict screening procedure to ensure all our technicians are highly proficient in achieving complete customer satisfaction. We have a prolonged experience in offering AC cleaning in Dubai to a broad client variety with our highly accountable work. Apart from the quick assistance and hassle-free process, the following reasons make us the ideal choice for AC cleaning:
Licensed and experienced technicians.
Latest AC cleaning equipment.
Competent pricing.
Round-the-clock emergency assistance.