The sweltering heat makes AC service in Dubai a common demand throughout the year. However, a sudden malfunction in the air conditioning systems makes the process of quickly finding an ideal AC maintenance service in Dubai a real challenge. At EDGE Integrated Technical Services, a leading AC maintenance company in Dubai, we offer a complete range of technical assistance to enable the proper functioning of your air conditioning units. Our AC services include - Right from new unit installation to all other services like AC cleaning, and long-term air conditioner maintenance. We cover complete AC servicing at highly competitive rates.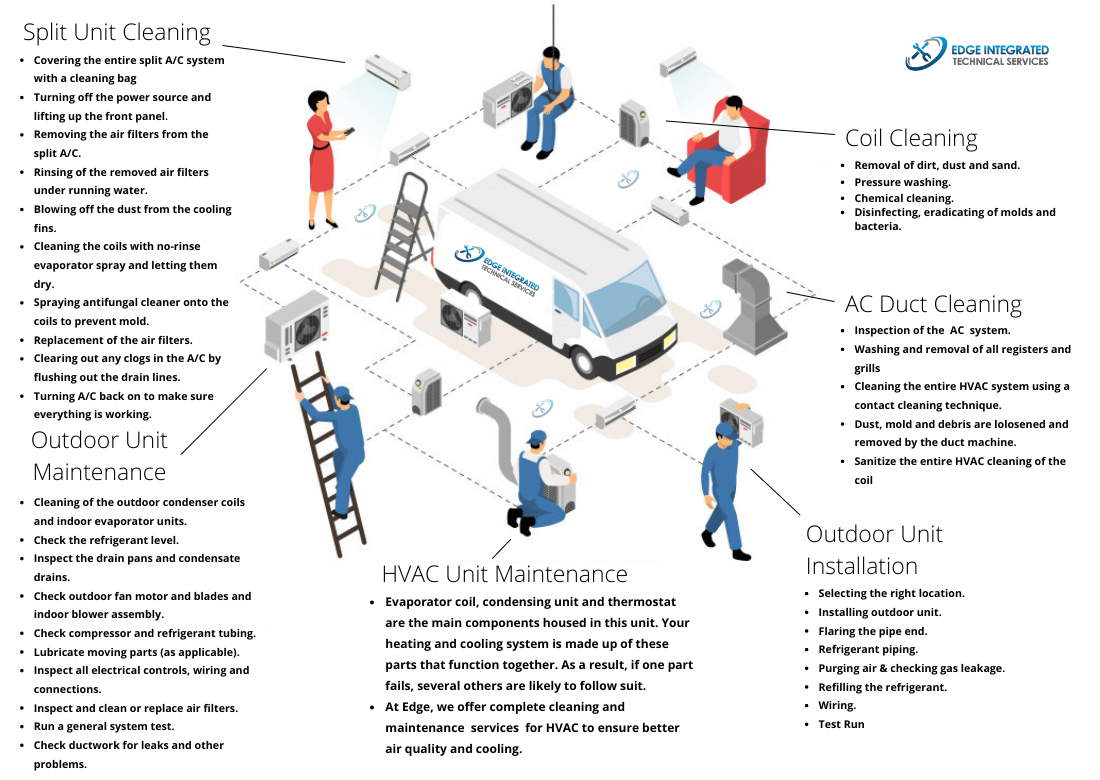 As air conditioning units need to function for longer hours, they strictly require frequent AC maintenance or servicing to avoid damage and breakdowns. Over the years, we have provided an efficient AC maintenance service in Dubai across various clients with our different energy-efficient solutions. Our certified expert professionals are highly trained to accurately diagnose the root cause of the AC maintenance issue to ensure the unit's prolonged smooth functioning. As an expert provider of AC maintenance in Dubai, we can render an extensive range of AC servicing across residential, commercial, and industrial units.
SIGNS YOUR AC NEEDS AN AC SERVICE

WARM AIR
If you notice warm air exiting through your AC vents even when the temperature is set at a low range, consider this a sign for AC servicing.

AIRFLOW
Inadequate flow of air may indicate issues such as blockage of the air conditioning unit duct or motor failure. This can be rectified with quick AC maintenance.

FREQUENT CYCLES
Frequent cycles are when the AC skips regular cooling cycles and exhibits irregular or constant on and off in the cooling pattern.

HIGH HUMIDITY
Lack of humidity control and higher moisture level in the room's atmosphere indicates a need for AC servicing.

WATER LEAKS
Wetness around the AC area or prevalent water leakage from it shows issues with its condensation system.

BAD ODORS
The unnatural smell while turning the air conditioning unit on may indicate serious ac maintenance problems that may even cause a short circuit if escalated.

BREATHING ISSUES
Lack of air conditioning service may lead to unclean AC ducts that release contaminated air. Without proper AC service, this can cause various health issues.
OUR AC SERVICE IN DUBAI INCLUSIONS
Importance of Regular AC Maintenance
Improved cooling
Proper and frequent ac maintenance in Dubai will ensure the efficient functioning of all the parts, improves the air quality, and provide constant cooling without any breakdowns.
Reduces Utility Bills
Clogged filters, condenser coils, and motor failure due to lack of AC servicing might force the unit to work extra, thereby attracting more power. This then leads to an increase in electricity bills.
Improves AC Lifespan
Like most machines, regular air conditioner maintenance can help retain the unit and ensures it lasts for a longer period.
SCOPE OF WORK
INSPECTION AND RECTIFICATION
Our well-qualified professionals identify and address the AC servicing issues through in-depth inspection of the following:
AC.
Duct(s) – If applicable.
Drain tray.
Drain lines.
Thermostats.
Refrigerant Gas.
Indoor fan motor.
Outdoor Chiller unit.
CLEANING AND DE-SCALING
EDGE Integrated Technical Services provide deep cleaning and sanitization for hygienic air conditioner maintenance in Dubai, especially for the following parts:
Chillers.
Condensers.
Cooling coils.
Ducts (Cleaning & Sanitization).
REPAIRS AND REPLACEMENT
We provide extensive Ac fixing and AC maintenance in Dubai to fix all the air conditioning unit malfunctions in any of the areas such as:
Actuator Motor.
Electrical panels.
Filters.
Motor control panel.
Pump panels.
Relay.
Winding of motors.
Edge provides the best service for AC Service and AC Repair requirements in Dubai. Call 800 3487 for a free quote.