Sofa cleaning Dubai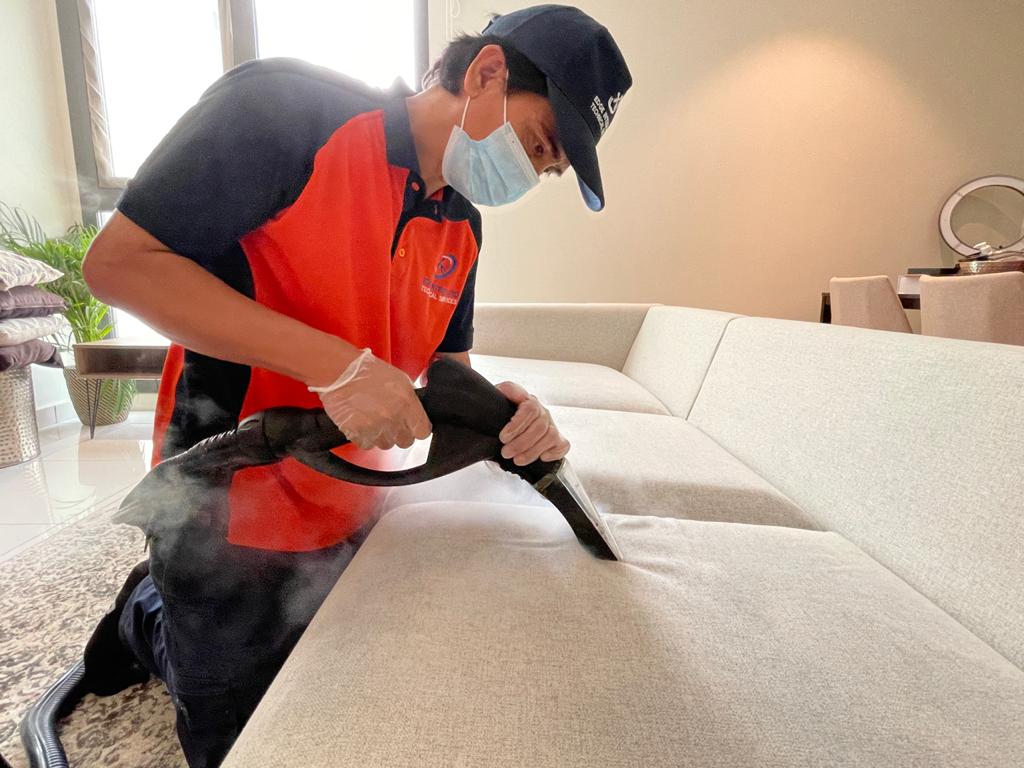 Most Popular
Looking for Sofa cleaning Dubai?
Are you tired of having the dusty patches on your sofa for weeks? Do you find it hard to get rid of the tough food and drink stains on the sofa cover? While the sofa is an essential part of every household's furniture, keeping it clean and maintained can be a struggle. No matter where you are, it's easy to spill drink or food on the sofa. Especially when you have kids at home, it's easy for the sofa surface to get dirty and stained. But if it's not the drink and food stains, the humid and dusty weather in Dubai is another reason that makes sofa cleaning tough with all that dust and bacteria in the air.
So now what? Does this mean that you have to spend hours daily or weekly cleaning the sofa on your own? You may plan to use a vacuum cleaner to suck all that dust out or use harmful chemicals that promise to remove the stains just from the surface. But how do you know if it's going to help deep clean your sofa?
Worry no more as Edge Dxb is ready to offer reliable sofa cleaning services in Dubai with professionals that know exactly how to clean a sofa while maintaining the integrity of your sofa's fabric. So, whether you have kids/toddlers, seniors, or consistent gatherings at your home, our sofa cleaning services in Dubai are always there to make your sofas spotless.
Scope of Work for Sofa cleaning Dubai:
At Edge Dxb, our focus is to ensure clean and tidy results after the end of each sofa cleaning job. Our sofa cleaning services involve two types of cleaning:
· Deep Dry Cleaning:
During sofa cleaning, the most visible issues are dust and stains. However, the pests and germs that may remain invisible also need a thorough cleaning to eliminate them completely. Even though we can't see them easily, their presence can affect your environmental hygiene. We often consider fabric sofa cleaning or professional sofa cleaning services an essential part of home maintenance. With the help of the latest Kirby Machines, Edge Dxb focuses on removing all kinds of pests and bacteria from the sofa. It includes dust, dust mites, allergens, molds. These bacteria and dust can cause different diseases and health issues like cough, cold, asthma, or other allergy issues. Hence, the best way to maintain a healthy environment in your surrounding is to ensure that all these pests and dust are also eliminated. Our sofa deep cleaning services in Dubai focus on getting rid of all these hidden pests and dirt efficiently.
· Foam Wash:
If you need shampooing service for your sofas along with deep dry cleaning, then this is for you. That is why our sofa cleaning services in Dubai provide foam wash/shampooing along with a steam wash and drying of the sofa.
We focus on the deep dry cleaning along with the foam shampooing process during the foam wash process of the sofa cleaning service. This process helps remove all kinds of dust, allergens, dust mites, molds, etc. With the help of this highly effective foam wash process, your sofas get thoroughly cleaned. After the deep cleaning, our sofa cleaning task at Edge Dxb is followed by shampooing and deep suction of particles up to 26cm deep using the Kirby machine. With this efficient cleaning process of our professional sofa cleaning in Dubai, we ensure the complete removal of all stains and leave your sofa looking fresh and as good as new in no time!
Signs You Need Sofa Cleaning Services:
Sofa cleaning is all about ensuring that your sofa doesn't have any visible stains or invisible and hidden germs, dust mites, or bacteria. There are several signs that should be considered to find out whether your sofa requires deep cleaning services to ensure the environmental hygiene and durability of the sofa and upholstery. These signs include:
· Consistent odor coming from the sofa
· Increased allergy symptoms among the pets, kids, or adults at home.
· Visible stains that can't be removed easily
· Excessive pet or human hair deep inside the sofa bed that isn't easy to remove
· Discomforting cushions and structure of the sofa
· Dull or damaged look of the upholstery/sofa.
Benefits of Our Sofa Cleaning Services:
Some of the reasons why you can count on Edge Dxb for all the fabric sofa cleaning needs include:
· Improved Lifespan – once you invest in an expensive sofa, you plan to keep it with you for many years to come. However, this long-term investment will only retain its value if it is kept clean and well-maintained. Otherwise, you can expect your sofa to start looking old and damaged with accumulated dirt and various stains. However, our professional sofa cleaning company in Dubai ensures your valuable sofas and upholstery are maintained properly and cleaned thoroughly each time. With the help of this consistent maintenance and deep cleaning of the sofa, your sofa can look as good as new for years.
· Better Hygiene – No matter how expensive your furniture is, the lack of hygiene can make your fancy furniture look terrible. Other than that, the health issues caused by unclean upholstery and furniture can be another serious drawback. But that's nothing to worry about as our sofa dry cleaning service in Dubai isn't just about fancy tools and machinery but also quality. With clean water and safe and effective cleaning products, our experts ensure safety along with extreme hygiene.
· Refreshing Appearance – The appearance of your sofas is one of the major aspects our professional sofa cleaning service in Dubai focuses on. Whether it's just you at home or your relatives/friends arriving, it's important to keep your sofas looking appealing at all times. The aesthetics of your furniture helps improve the mood of the residents and create a positive image of your home. That is why the experts at Edge Dxb don't just focus on cleaning the sofa for you. Instead, we also aim to improve the appearance of your sofa to the best of our abilities.
· No More Cleaning Stress – for a homeowner, it's easy to get stressed with every stain occurring on your sofa or upholstery. For getting rid of those stains on your own, you must have tried every cleaning method and so-called DIYs but to no avail. But why go through that struggle at all when Edge Dxb offers quick and affordable sofa cleaning services!
Frequently Asked Questions - Sofa cleaning Dubai
Are professional upholstery and sofa cleaning services in Dubai worth it?

While upholstery cleaning services may seem like an extra expense, it saves you from the unavoidable long-term expenses that may cost more. This involves the sofa cleaning, repairing, or replacing expenses that may occur sooner if the sofa isn't maintained. We believe that routine maintenance of your upholstery can help it last longer and look better.
How often should you consider sofa cleaning services?
Our professionals at Edge Dxb believe that couch cleaning in Dubai should be considered once or twice a year.
How long do professional sofa cleaning services take?
Typically, a full sofa cleaning service on a 2–seater sofa takes 2-3 hours. The total time consumed for deep cleaning your sofas depends on the level of dirt and soiling that our professionals need to remove.