Pest Control Dubai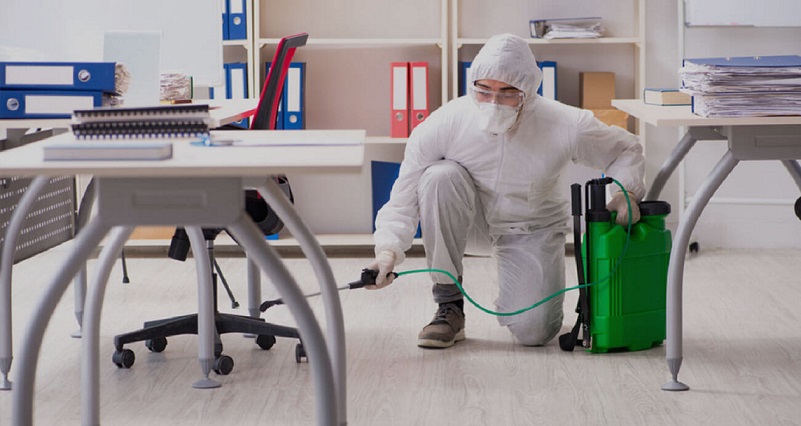 Pests are a huge problem that is faced by most households at least once in their lifetime. Whether you live in residential homes in Dubai or apartment buildings, your home is vulnerable to pests and bug infestations. Not only are pests a nuisance, but they can also be dangerous and pose a risk to the health and safety of your children and loved ones.
The good news is that Edge offers exceptional pest control services in Dubai for the quick and effective removal of all kinds of bugs and pests. We have been offering one of the best pest control services for the past several years and take pride in our safe and effective results. We also offer affordable services and our team of professionals works fast to make sure your home is pest-free in no time!
Signs You Need Pest Control Services
Strange Droppings
One of the most common signs of possible pests and bug infestation is strange droppings. If you notice droppings on surfaces in the kitchen, dining room, or even your bedroom, it could be from possible pests nesting nearby.
Nasty Smells
Pests are smelly which makes it easier to identify them. If you have been experiencing a strange and nasty smell in your home for some time, you should call in the experts at Edge for an inspection to find out if you need pest control services.
Visible bugs or insects
If you keep noticing visible bugs around your home such as ants, cockroaches, bed bugs, etc., that is a clear indication that you should call professional pest control services immediately!
Frequent Dermal Issues
Another big sign of pest problems is frequent dermal issues among the residents. Pests and bugs carry bacteria and other germs that float through the air and can cause itchiness and other dermal issues for the people living in the house.
Our Pest Control Service Inclusion
Initial Inspection
A routine inspection every few months is a great way to keep your home pest-free. Edge offers inspection services to make sure your home does not have any bug infestations. If we find a problem, we go on to the next step of identifying the type of pest that is causing the issue.
Identifying the Type Of Pest
The second step is identifying the type of pest to find the ideal treatment for eliminating the infestation. Our pest control experts in Dubai can identify all kinds of pests and bugs including ants, termites, bed bugs, cockroaches, rats, flies, and other crawling and flying pests.
Cleaning And Treatment
The next step is doing a deep cleaning of the premises before applying the treatment for the effective removal of all pests.
Pest Prevention Services
Finally, our team treats the area with special products to prevent the infestation of pests from coming back for a long time.
Benefits of Pest Control Services
Here are some key benefits of our pest control services in Dubai:
Clean and Sanitary Home Environment
Pests and bugs leave droppings all over the house and also shed their skins that can result in a dirty and smelly interior of your home. With professional pest control services, you can ensure a clean and sanitary home environment that smells fresh and looks beautiful all the time.
Improved Health for Residents
Pests and bugs bring home all kinds of germs and bacteria that can increase the risk of various illnesses and diseases among the residents. By eliminating the pests and other bugs, you can reduce the health risks for your loved ones and also enjoy better sleep, improved breathing, and fewer dermal issues.
Stronger Structures
Not many people know that pests and bugs such as termites and bed bugs can compromise the structural integrity of your home. By removing them promptly, you can protect your home from structural damages and ensure its longevity.
FAQs - Pest Control Services in Dubai
How much does pest control cost in Dubai?
The cost of our pest control services in Dubai depends on the type of services you require as well as the extent of infestation in your home. Edge offers some of the most competitive rates to ensure affordable pest control services for the residents of Dubai.
What do pest control services include?
Our pest control services are quite comprehensive and include an initial inspection to identify the extent of the infestation and the type of pests that are nesting in your home. The next step is cleaning, eliminating the pests, and proofing the area against future infestations.
How long does it take to get rid of pests from residential homes?
Our pest control services in Dubai can take anywhere from a couple of hours to a day to completely eradicate any pests, bugs, and infestation from your home.
What products are used for Pest Control in Dubai?
We use eco-friendly products that are not only effective at removing the pests and bugs completely but are also safe for the environment.
How effective are your pest control services in Dubai?
We offer guaranteed elimination of all pests and bugs with our exceptional pest control services and greatly reduce the chances of any future infestations or pest issues.
When is a good time to hire pest control services in Dubai?
The best time to hire pest control services in Dubai is when you are moving into a new home, or you are renovating your old home. This will help remove and eliminate any pests and bugs before you start living in your home. However, you can also get pest removal services while you are living in the house with our safe and effective pest removal products and equipment.
Are your pest control services safe?
At Edge, we only use the safest pest removal products and equipment that are chemical-free and approved for the residents and environment to ensure the health and safety of our clients.