Air Conditioning Repair Services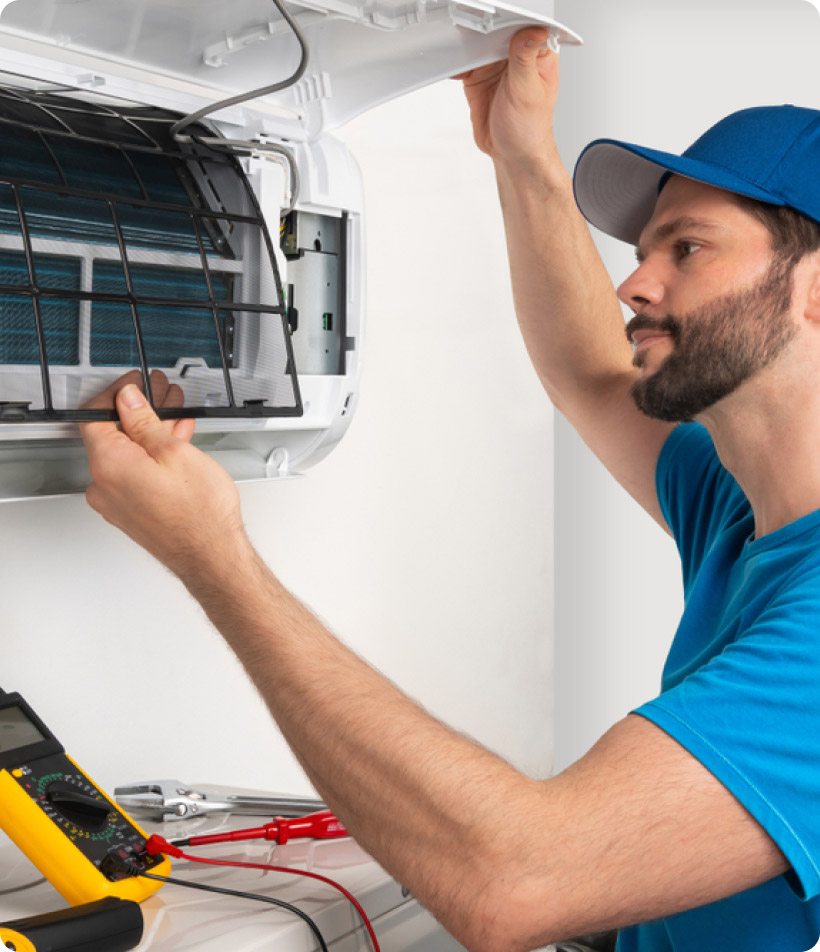 Most Popular
Air Conditioning Repair Services
Edge offers the most effective Air Conditioning Repair Services in Dubai. We are qualified and have several years of expertise in the industry. We service HVAC units, AC units, ducts, air filters, ac vents, dehumidifiers, and various other ac-related items. Our AC Services in Dubai may be adapted to your specific requirements. EDGE employs skilled and certified professionals that are outfitted with cutting-edge equipment to provide the best AC maintenance services in Dubai.
Our AC Servicing in Dubai comprises a variety of services such as residential and commercial AC Servicing. All of your cooling and heating needs can be met at one location. We provide our customers with cutting-edge technology and high-quality services.
Regular inspection, cleaning, and maintenance are part of our AC servicing in Dubai. A checkup should be done every six months or whenever there is a significant change in the system. Replacement of filters, cleaning of air handling devices, cleaning of evaporator coils, and monitoring of refrigerant hoses and condensers are all part of basic AC service/maintenance. The refrigerant hoses are replaced if required due to low refrigerant levels or because refrigerant leakage occurs at unusual temperatures.
The sweltering heat makes AC servicing in Dubai a prevalent necessity throughout the year. However, a sudden malfunction in the air conditioner unit makes the process of finding a perfect service or maintenance provider quickly a true challenge. At EDGE Integrated Technical Services, a leading AC maintenance company in Dubai, we offer a complete range of technical assistance to enable the proper functioning of your air conditioning units. Right from new unit installation to all other services like AC servicing cleaning, and long-term maintenance, we cover it all at highly competitive rates.
As air conditioners need to function for longer hours, they strictly require regular and frequent maintenance to avoid damage and breakdowns. Over the years, we have provided an efficient AC maintenance service in Dubai across various clients with our different energy-efficient solutions. Our certified expert professionals are highly trained to accurately diagnose the root cause of the issue to ensure the AC's prolonged smooth functioning. As experts in the industry, we can render an extensive range of AC services across residential, commercial, and industrial units. To learn more about our AC service and maintenance solutions, feel free to reach out to our experts.
Edge specializes in residential/commercial/industrial AC servicing and AC Maintenance throughout Dubai. Call us at 800 3487 anytime for a rapid, dependable same-day service! We are simply a phone call away in any given circumstance. Our highly skilled professionals and well-equipped facility will take care of your AC and guarantee that it is back up and running as soon as possible.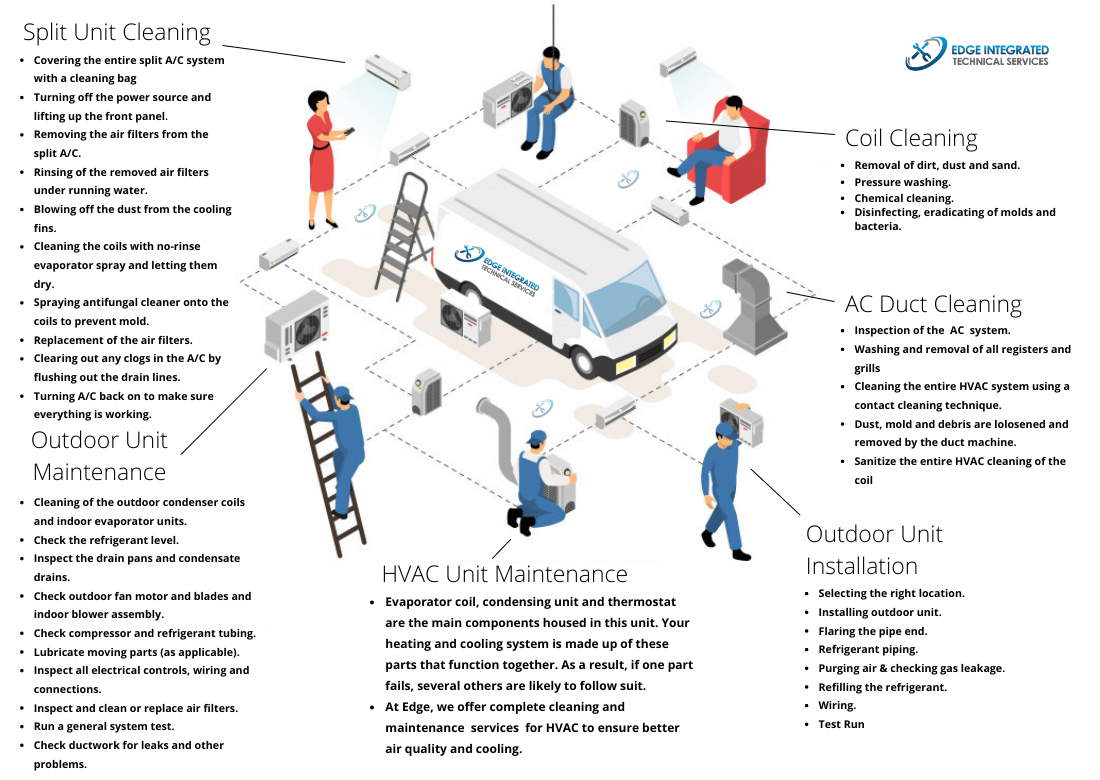 If you are looking for the best AC Maintenance Company in Dubai, then Edge should be your perfect pitstop for reliable AC Maintenance and Repair Services in Dubai.
We also provide AC Duct Cleaning and AC Coil Cleaning Services. Call now to get a quote.
Frequently Asked Questions - AC Service Dubai
How often should AC be serviced in Dubai?
- Air conditioners should be serviced at least 3-4 times each year. It covers both major and minor services.
Can AC be repaired?
- Almost all AC repairs need the use of a professional HVAC technician. The simple answer to these concerns is that you should avoid performing any do-it-yourself repairs on a central air conditioner.
What temperature should I set my air conditioner in summer in UAE?
- During the summer, air conditioners use a considerable amount of the power generated. To reduce your AC use, Set your thermostat to 24°C or higher.
Why is my AC running but not cooling?
- If your air conditioner is operating but not lowering indoor temperatures, one possible cause is a clogged or obstructed condenser coil. When working properly, the condenser fan sucks air into the outside unit via the condenser coil to extract heat energy from your home.
What is the most common AC repair?
- The 10 Most Common AC Repairs and Servicing in Dubai
* Coil Cleaning
* Replace Air Filters
* Replace Capacitors
* Replace the Thermostat
* Repair The Defrost Control
* Replace or Fix Compressor
* Replace The Condenser Fan
* Empty The Condensation Drain.
What is included in AC servicing?
- Our AC service tasks include:
* Change the air filters.
* Inspect and clean Indoor and outdoor coils.
* Examine the condensate pump.
* Check that the thermostat is working correctly.
* Remove any dirt and debris from the condensate pump.
* Examine the whole HVAC system visually.
* Remove any dust, dirt, or debris from the system.