Curtain Cleaning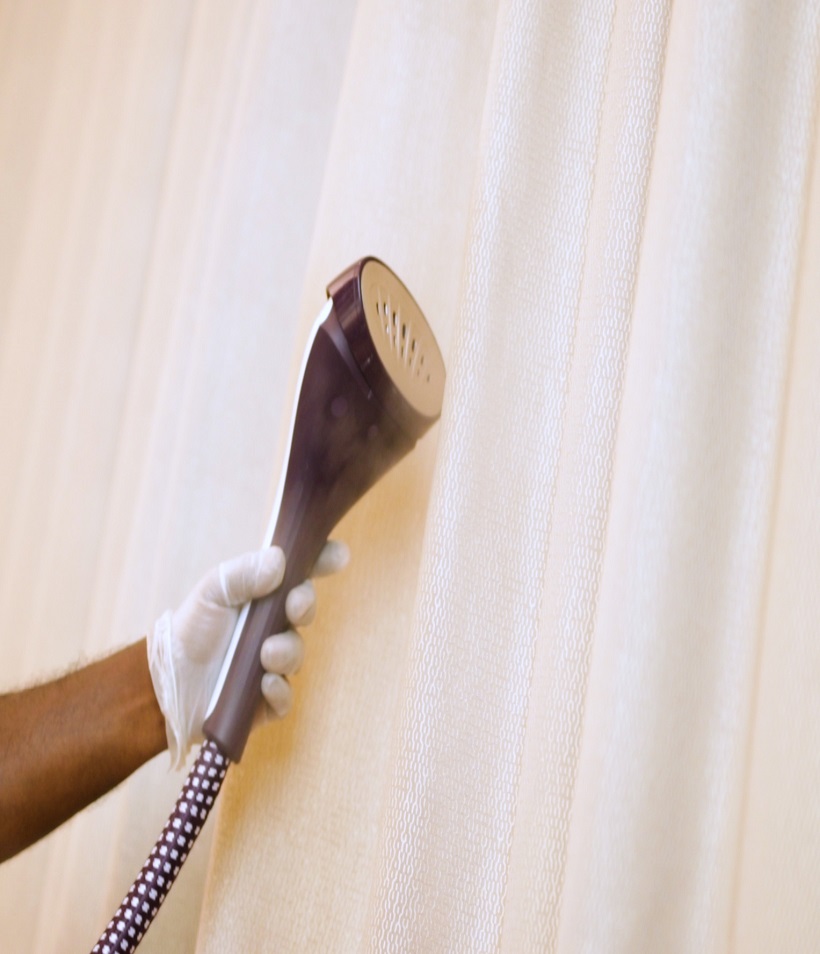 Curtains are an essential part of your home's interior and play a key role in bringing together the aesthetic of any room. Depending on the size, color, design, and style of the curtains, they can brighten up a room, add a touch of class and elegance, or simply add a cozy feel to an area. However, getting quality curtains costs a lot and requires proper regular cleaning to prevent the fabric from degrading quickly or getting damaged. Unfortunately, the heat, humidity, and dusty environment of Dubai can wreak havoc on your curtains, especially if you like ventilation and open your home windows often.
But worry not, as Edge Dxb has got you covered with our premium curtain cleaning services in Dubai. Not many people know that around a third of the dirt on their home curtains is outdoor pollutants that come inside when you open the doors and windows. Curtains also attract a lot of dust and allergens due to their heavy and textured fabrics. They can even spread them to other parts of the house when they are moved by a breeze. Edge Dxb guarantees clean and sanitized curtains with our innovative and efficient cleaning process without removing your curtains.
Signs You Need Curtain Cleaning Services
Even if your curtains look neat and clean, there is a high chance that they are full of microbes and mold spores that can cause allergies and other issues in the house. Here are some simple signs you need to look for that indicate it might be time to give those beautiful curtains a thorough deep cleaning:
One of the simplest signs to look for is if the fabric of your curtains has become dull and faded over time. This could be due to the accumulation of dust and other pollutants, and a simple foam wash could return them as good as new.
As the curtains accumulate dust from the air, it also attracts any scents and smells from around the house. Smells from cooked food, people smoking in the house, and various other things permeate the curtains' fabric and can make them smell musty over time. Odors coming from curtains could also be a sign of bacteria and fungi buildup that should be eliminated immediately with professional curtain washing and cleaning services.
Finally, the most obvious sign to look for is any visible stains or dirt on your curtains. If you have noticed dust particles getting dislodged and flying in the air every time you open or close the curtains, a deep cleaning is probably overdue. Similarly, stains can be caused by people touching the curtains with dirty hands or kids accidentally spilling stuff near the curtains, causing splashes to stain the fabric. Quick deep cleaning of the curtains can help get rid of those stains in no time.
Importance of Curtain Cleaning Services
There are a lot of benefits of getting your curtains cleaned regularly instead of waiting for them to get noticeably dirty and dull before you call in the professionals. Here are some of the top reasons why it's important to hire professional curtain cleaning services at least once a year:
Clean and fresh-looking curtains can brighten up the interior of your home and uplift all the other upholstery and furnishings of the room.

Removing all the dirt, dust mites, and allergens from the curtains regularly can ensure a clean and healthier home and reduce the risk of respiratory issues among the residents.

By performing a deep curtain cleaning every few months, you can keep the beautiful fabric from getting damaged or degrading over time. Removing the dirt that has accumulated within the fabric of the curtains can keep it soft and sturdy for a long time,

Getting the curtains cleaned can extend their life and enhance their quality, saving you a lot of money that you would otherwise spend on getting new curtains to replace your dull and damaged ones.

By hiring professional curtain cleaning services in Dubai, you can prevent your fabric from getting damaged, which is a common occurrence when residents try to do DIY cleaning on their curtains. It can also save you a lot of time and hassle as professionals perform the cleaning services fast and efficiently.
Scope of work
At Edge Dxb, we offer two types of curtain cleaning services in Dubai. These include:
Deep Cleaning Using Kirby Machines
Our deep cleaning process involves using the Kirby machine system to remove and eliminate any dust, dirt, allergens, and other pollutants from the fabric of your curtains to give them a fresh and clean look and leave them looking brand new.
Foam Wash
Edge Dxb also offers the foam wash process where we remove any visible dirt, dust mites, and other particles from the fabric of the curtains before applying shampoo. We then use the Kirby washing system to clean the curtains and remove any stubborn stains before drying them, leaving them spotless and fragrant for a long time.
Frequently Asked Questions - Curtain Cleaning Services
How often should you get your home curtains cleaned?
Health experts and professional interior designers recommend getting your curtains cleaned every six to eight months. If that's not possible for you, try to get them cleaned at least once a year.
How long do the curtain cleaning and washing process usually take?
The duration of the curtain cleaning process depends on the number of curtains, the size of the curtains, and the fabric of the curtains. However, Edge Dxb offers quick cleaning services on site that doesn't take more than a couple of hours to clean typical double panel living room curtains.
Can you sanitize the curtains?
Edge Dxb offers curtain dry cleaning and steam sanitizing, which kills almost 99% of bacteria, fungi, and other viral particles in most cases.
What kind of products do you use to clean curtains?
At Edge Dxb, we only use the very best products and equipment for our curtain cleaning services in Dubai. All our products are free from harsh chemicals and are environmentally friendly to protect your fabric as well as the environment.