Book a Carpenter Dubai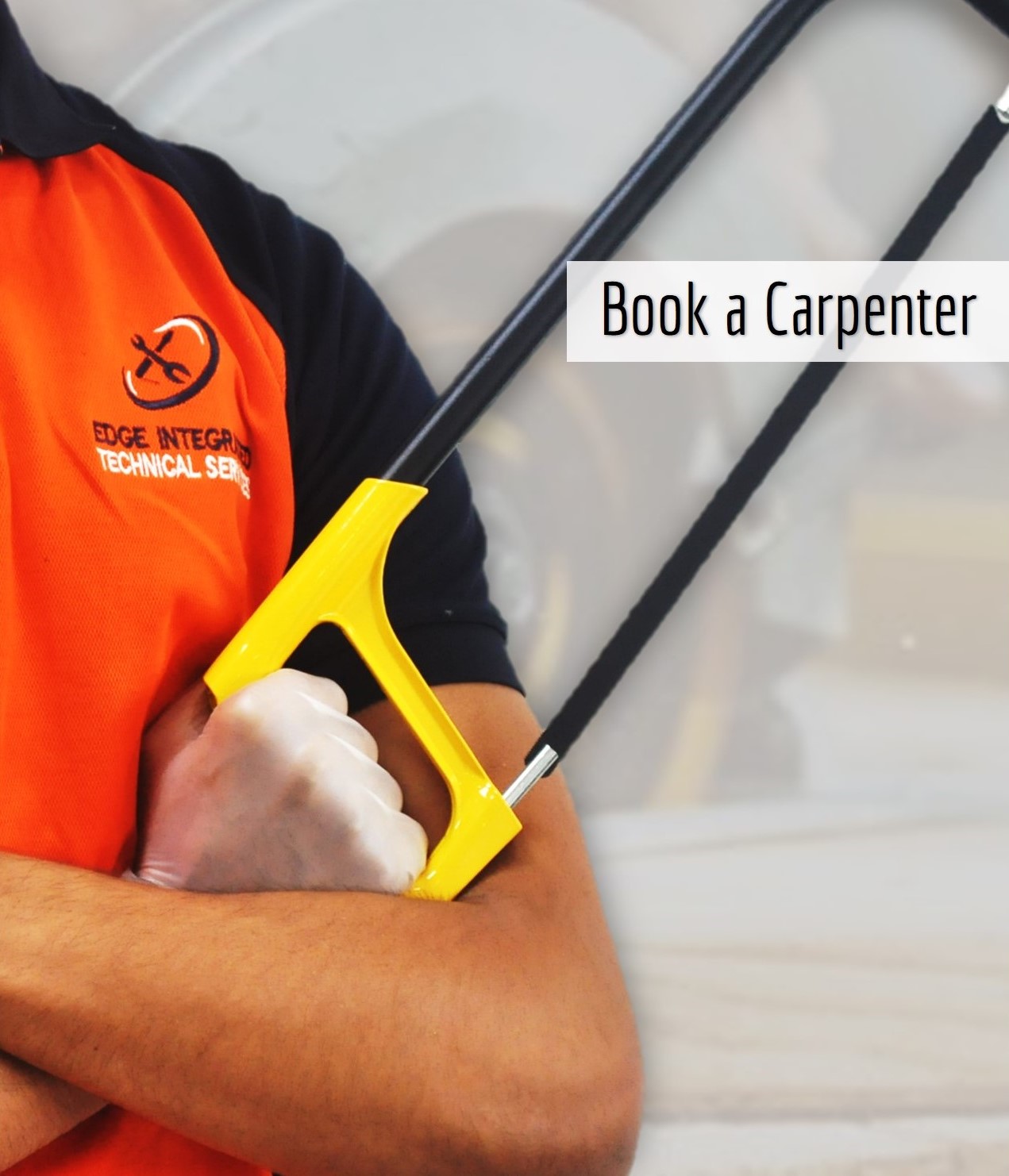 Carpenters are an important workforce in many industries across the world. One area where they have a high demand is in homes. Their high demand can be attributed to the low cost, high strength, and general ease of use of wood. There are many applications for carpentry works in which include various furniture fabrication. Furthermore, carpenters are highly essential, especially when one requires custom-made designs. Sourcing highly skilled and experienced carpenters in Dubai might be challenging, given the number of carpenter services available. However, making the right decision is crucial in order to be assured of excellent results.
At Edge DXB, we offer carpentry services that cover various needs, including furniture construction and repairs. We aim to provide our services at a reasonable price to effectively meet the needs of clients, especially for those with a limited budget. Our team is equipped with the expertise and experience required to work in delicate environments around expensive items while maintaining quality work. Book an appointment with our carpenter, select the number of hours you'd need, and choose your preferred date and time, and we'll be in touch.
About Our Carpentry Service
Turnkey Service
Through Edge DXB, our team can efficiently fabricate and install our own products based on your requirements, further offering a turnkey service. We can complete both predefined and customized designs that a customer might have on a contractual basis.
Skilled and Experienced Carpenters
Our skilled carpenters hold years of experience and in-depth knowledge in carpentry. Customers can therefore rest assured of being in safe and reliable hands when working with us.
We Undertake all types of Carpentry Projects
Carpentry projects can be diverse and will vary based on the requirements of customers. We undertake all types of carpentry works irrespective of the size, time, and budget.
Cheap and Transparent Pricing
Edge DXB offers its services at a comparatively low price with pricing metrics that is easy to understand. Moreover, there are no hidden charges, keeping away any unwanted surprises.
Our Service Inclusions
Assembly and Installation of Kitchen Units
The carpentry service offered by Edge DXB includes the complete assembling and installation of kitchen units. It eliminates the hassles of doing it by yourself.
Furniture Repairs
In addition to assembly and installation, we also offer furniture repairs where our efficient experts will use the latest available tools and methods to have your furniture repaired to the highest standards.
Door Installation and Repair
We don't just design and fabricate doors. Our team will also have it installed for you at an affordable price. Moreover, if you have any door repair requirements, you can't rely on us to have it fixed quickly and efficiently.
Window Installation and Repair
At Edge DXB, we also provide window installation and repairs. So whether you need to fix a new window or seek help for an existing window, we are adept at covering all your needs under one roof.